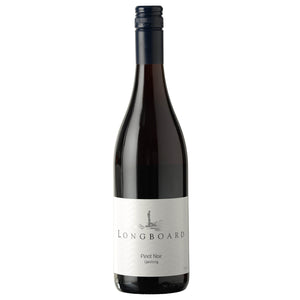 Tasting Notes:
A fine example of our cool-climate region this Pinot Noir has a soft elegant palate combined with weight and depth.  Lifted cherry and red berry aromas give this wine lasting appeal. Soft and full red fruits abound - think strawberries, mulberries and raspberries. Luscious across the mid palate with lashings of fruit this wine also has elegant, soft tannins making it a perfect accompaniment to a surprising variety of meals.
The Longboard Range:
Like the image of renowned Longboard rider, Rex 'China' Gilbert enjoying a lazy ride on a gentle swell, our Longboard range is there to help you unwind after work or to enjoy over dinner at home or with friends. Long in flavour and impact, each variety on offer in this range is a finely crafted example of its type, priced for everyday and ready to drink now.