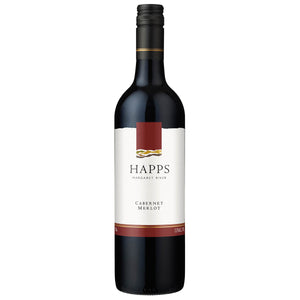 Our first Cabernet Merlot was produced in 1982. We have always felt that the merlot grape enhanced cabernet and in this case merlot at 29%, is more than a bit player. Indeed tasters sometimes suggest that the Merlot is dominant. Merlot extends the flavour, enhances the finish and performs in a very positive fashion.
Tasting Notes:
AROMA:  Lifted aroma of red currant, cranberry, blueberry and tomato leaf with some subtle oak and hints of bay leaf, truffle, pimento and eucalypt.
PALATE: A medium to full bodied wine with fine tannin and flavours of red fruits, blackberry, green olive and dark chocolate with hints of dried herb, forest floor and rhubarb. The wine demonstrates a savoury persistence and a long chalky tannin structure.
VARIETIES: Cabernet Sauvignon 71%, Merlot 29%.
ANALYSIS Alc/Vol:14.1%, Titratable Acidity:6.6g/L, pH: 3.75, Residual Sugar: < 0.1 g/L.