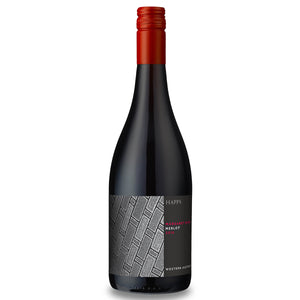 There are very few good Merlots in Australia, but some expensive pretenders. The conventional wisdom in Australia is that Merlot is useful variety to be used in small proportion to soften Cabernet. Here at Happs we make two straight Merlot wines because we believe that Merlot, when it likes its home, has a certain sweet palatability that Cabernet Sauvignon, by its very structure, is denied. Happs Merlot is one of our best recognised and most sought after red wines. 
Tasting Notes:
AROMA: A vibrant aroma with red fruits, choc mint, cassis and cedar with hints of rosemary, eucalypt and truffle.
PALATE: This medium to full bodied wine displays juicy red fruits, green mulberry, maraschino cherry and subtle oak. The tannins are impressive for Merlot and provide an attractive chalky structure. The wine has good length and finishes with a choc mint and black jube after taste.
VARIETIES: 85.1% Merlot 14.9% Cabernet
ANALYSIS: Alc/Vol:13.2%, Titratable Acidity: 6.1g/L, pH: 3.67 Residual Sugar: <0.5g/L.