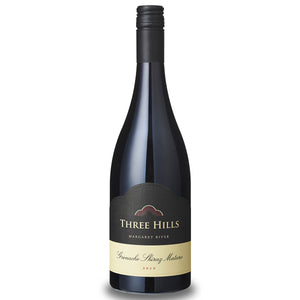 These are three great red varieties that hail from the Rhone between Avignon and Macon. They all ripen very late in the season and each grape can make a varietal wine that will stand alone. Grenache is light in character raspberry and cherry aromatics and a soft finish. Mataro is very late ripening. It is sometimes called Mourvedre and in other parts Monastrell. Shiraz needs no introduction to Australians except that one should remember that it is a chameleon that is capable of many expressions. The three together make a wonderful team!
Tastings Notes:
AROMA: An attractive aroma of raspberry, cherry cola, violets, strawberry jam and plum with slight confection, dried herb and pepper.
PALATE: A medium bodied wine with rich red fruits, black cherry and green plum flavours with hints of mulberry, raspberry coulis and mocha.  The palate is soft with fine grained, slightly chalky tannin and a persistent cherry aftertaste.
VARIETIES: Grenache 62% Shiraz 31% and Mataro 7%
ANALYSIS: Alc/Vol: 14.2%, Titratable Acidity: 6.0g/L, pH: 3.59, Residual Sugar: < 0.1 g/L.