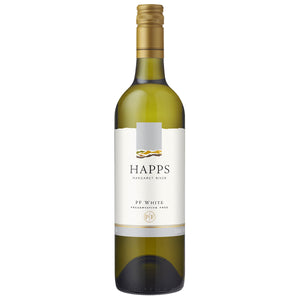 Although Sulphur dioxide is the main preservative used in winemaking worldwide, it is also a known allergen which prevents many consumers from freely enjoying wine. Here at Happs we apply careful techniques to create elegant wines without the use sulphur or other allergens such as fish, nuts and milk products. Chardonnay and Semillon are optimal varieties for the PF white blend, with inherent tannins to preserve the wine and fortify the natural flavours and aromas.
Tasting Notes:
AROMA: A complex aroma that displays the pastry & crème brulee characteristics of the wines malolactic fermentation plus stone fruit, white flowers, cumquat and lemon rind with notes of apple pie, cashew nut and bread.
PALATE: A richly flavoured wine displaying toast, butter and almond meal with fig, quince, lemon butter and apple cider. The wine is round and textural with a long creamy finish.