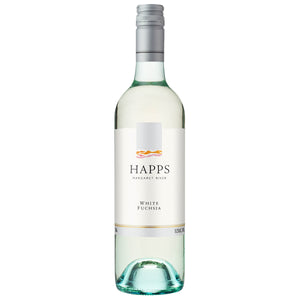 Happs is synonymous with a very special wine we call Fuchsia. It is a very popular rosé
style with obvious sweetness and an attractive spritz that we have been making for over 20 years. It has recently occurred to us that not all wine drinkers choose to drink pink and these consumers might enjoy a white version of Fuchsia. Hence the birth of White Fuchsia!
Tasting Notes:
AROMA: Lifted aroma of pear, nectarine, lime juice, and bath salts with hints of orange blossom, banana and fig.
PALATE: An intense wine that displays fruit salad and tropical flavours with obvious sweetness. It is lively and fresh with crisp acidity and an attractive spritz that balances the sweetness and provides a long zesty finish. A great refreshing summertime drink.
VARIETY: 48% Verdelho, 30% Semillon & 22% Viognier.
ANALYSIS: Alc/Vol: 10.0%, Titratable Acidity: 6.1 g/L, pH: 3.25, Residual Sugar 50.0 g/L